Scotiabank donates $10,000 to help prepare TCI students for new school year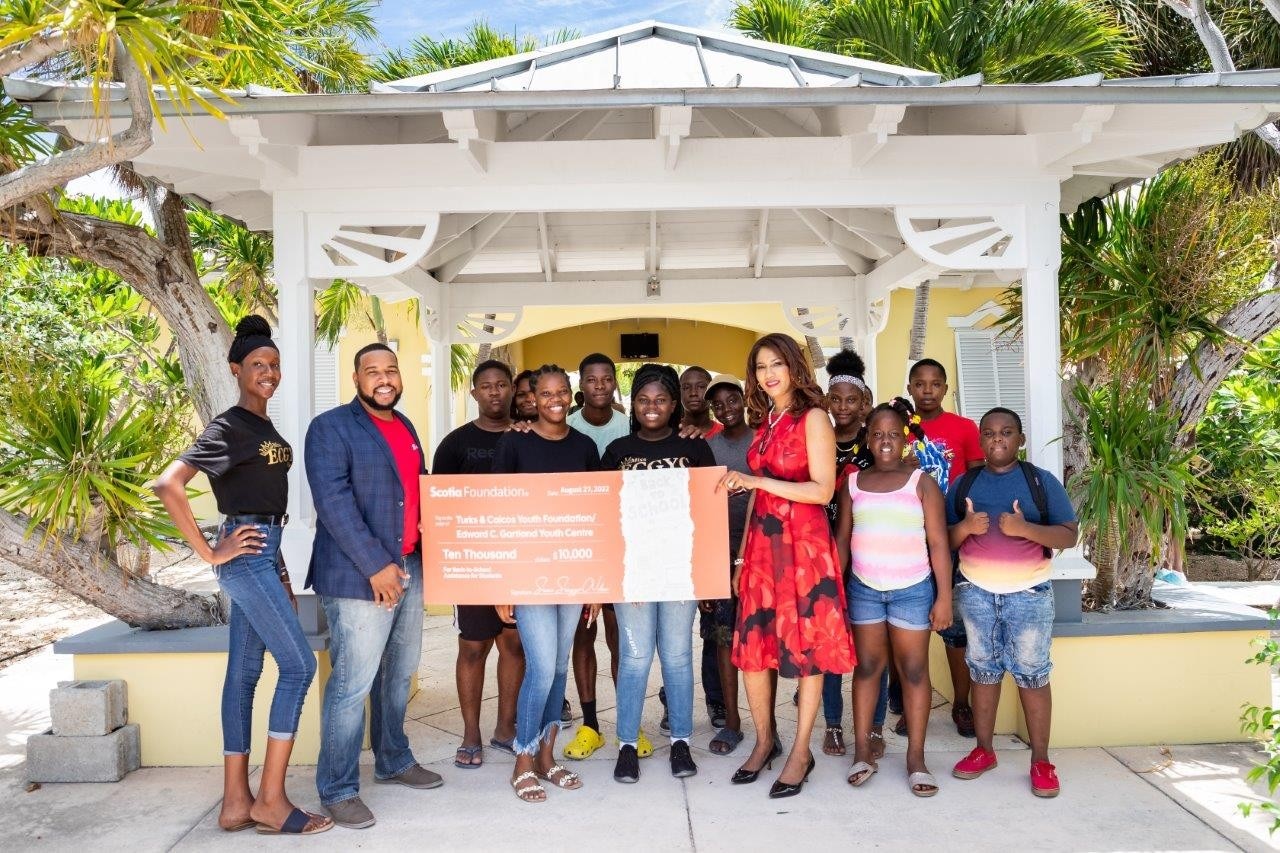 Providenciales, Turks and Caicos Islands - September 12, 2022 – Scotiabank Turks & Caicos provided $10,000 USD to assist students in need for the new school year. The funds were presented to the Edward C. Gartland Centre – operated by the Turks & Caicos Youth Foundation - to help fund the Centre's annual free 'Back 2 School' give back.
Suzan Snaggs-Wilson, Managing Director, Scotiabank Turks & Caicos Ltd and William Ingraham Commercial Banking Manager, visited the Centre during the event hosted on August 27. Snaggs Wilson commented saying, "It was a great privilege for us not only to be able to provide financial support for the great work being done by the Centre, but also for our team to visit, tour and interact with the vibrant, promising young people that it provides for." She also noted the Bank's ongoing commitment to support educational and training-based initiatives that benefit young persons in the community.
The 'Back 2 School' event provided over 100 youth in the community with essentials including book vouchers, uniforms, school supplies and toiletries. According to Roxann Wake-Forbes, Executive Director of the Edward C. Gartland Centre, several of the students' families are still affected by the economic pitfalls of the pandemic and so the initiative was intended to alleviate some pressure for parents and children as they prepared for the academic year ahead and the return to school.
"This year's event was a fun-filled one where positive interaction with our youth, in a safe and nurturing environment, was achieved. The support from Scotiabank continues to make a meaningful difference in the lives of the students that we engage, and we are always very appreciative when corporate donors come on board to make all the hard and important work that we do possible," Wake-Forbes noted.
The Edward Gartland Youth Centre caters to young people ages 10-18 by providing a wide range of programs , including tutoring/homework support, sports, dance, entrepreneurial clubs, arts & crafts, and music. These are aimed at building confidence and character through varying skill-development exercises.
Across the region, Scotiabank's involvement in educational programs is aimed at building economic resilience by enabling individuals, households, communities, and economies to thrive under a broad range of circumstances. The Bank has continued support of the Edward C. Gartland Centre for several years.