Scotiabank Community Program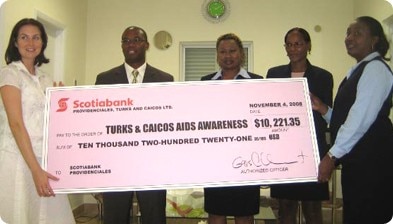 Scotiabank Supports the Edward C. Gartland Youth Centre

In November 2008 Scotiabank presented the Edward C. Gartland Youth Centre with a cheque for $10,221.35 and pledged an additional financial contribution of up to $5,000 from a new service the bank is launching.
"When we found out about the Edward C. Gartland Youth Centre, we knew this would be the best place for us to channel our funds to have the most impact," said Steve Saunders, Commercial Account Manager of Scotiabank in Turks and Caicos. "We are very impressed by what has been built, the goals and vision of the centre, and are very proud to support such a worthy and noble project."
In addition to the one-time donation, Scotiabank is looking to make a further donation of approximately $5,000 — this money will be generated from the launching of the Visa Debit cards. The new Scotiabank Visa Debit cards will replace ATM cards and the bank will collect $1.00 per card issued. The first $5,000 collected will go directly towards the Edward C. Gartland Youth Centre to help fund operating costs and on-going programmes. 
"Needless to say we are ecstatic about this news and the contribution Scotiabank is making to the centre," said Meghan O'Reilly, director of the Edward C. Gartland Youth Centre. "We cannot run this centre without the support and contribution of the business and private sectors.
"Our goals are intentionally set very high," she continued. "We aim to reach 25% of the youth in Providenciales that are between the ages of 13 and 24. This is approximately 375 children that we want to come to the centre, use our services and benefit from our programmes. Scotiabank and the other corporations that have made donations to us are helping us reach this goal and, more importantly, helping to positively impact the lives of our future generations."