Scotiabank Community Program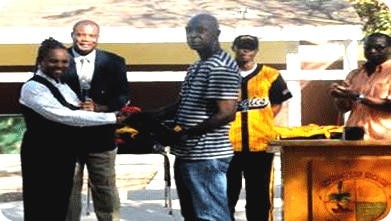 Scotiabank Provides Uniforms for Boys' Softball, Supports Kiddy Cricket

In 2012, Scotiabank Turks and Caicos supported sports initiatives on the Islands by sponsoring the local boys' softball league and helping launch a local Kiddy Cricket programme.
On March 29, 2012, Patricia Adams, Senior Manager Business Support, presented uniforms to Charles Forbes, Physical Education Teacher at the Clement Howell High School. The school expressed the need to develop sport programmes for young men, and Scotiabank was more than willing to assist. Scotiabank provided softball uniforms for 30 young men and a league is set to start in the new school year.
The Kiddy Cricket sponsorship is a joint venture with the local Cricket Association. Scotiabank is providing the cricket equipment needed for boys and girls to be taught the sport by the Association. The programme is well under way and the kids are excited to learn.